Schedule of Cisco Club webinars for December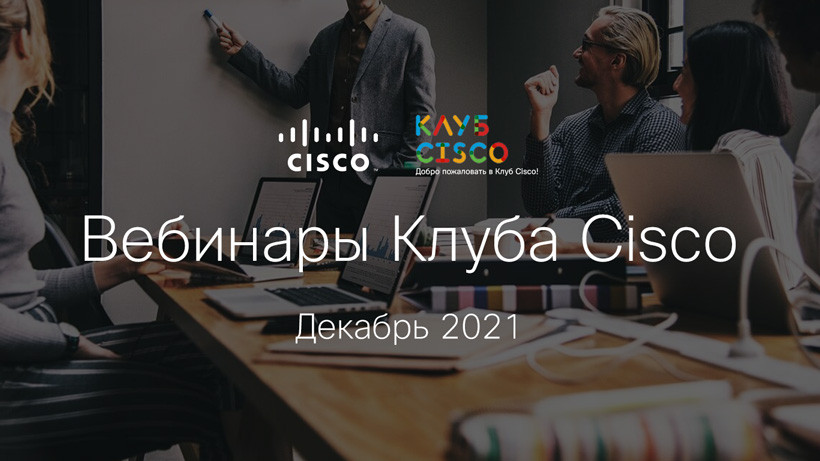 December 2, 2021 - December 23, 2021
December 2, 2021 11:00 - 12:30
ThousandEyes: Intelligent Web Monitoring Solution
Artyom Kovalev, Business Development Manager, Cisco AppDynamics.
It is no secret that the Internet itself is very fragile, and the active development of digital services and the ability to work from home are increasingly pushing companies to look for a solution that can ensure the stable operation of the services of organizations.
ThousandEyes provides application performance visibility into how the network, including the Internet, affects them, and helps to quickly identify the source of problems by monitoring the impact of re-routing an application to the end-user experience.
Colleagues from Cisco AppDynamics will demonstrate the solution's capabilities in a webinar.
December 9, 2021 11:00 - 12:30
Details of the SAF Architecture for Protecting the Remote Worker
Mikhail Kader is an information security engineer at Cisco.
Through the webinar, listeners will learn more about the evolution of the SAF architecture to protect the remote worker. Both the general architecture of the solution and practical customization of specific use cases will be considered.
December 16, 2021 11:00 - 12:30
Cisco corporate networks - summing up the results of 2021
Denis Kodentsev, Senior Architect at Cisco.
2021 has been an extremely busy year for Cisco enterprise technology. This year we saw a lot of novelties in corporate routing and switching, both in terms of new equipment models and the development of classic technologies. An important milestone in 2021 was a quantum leap in the capabilities, stability and usability of Cisco enterprise SDN technologies: Cisco DNA, Cisco SD-Access, and Cisco SD-WAN. This is the result of years of development process. As part of this webinar, we will discuss the key results of the development of Cisco enterprise technologies in 2021. What products have become the most popular and why? How have key Cisco technologies evolved? And what can be expected in the coming 2022?
December 23, 2021 11:00 - 12:30
Slido Interactive Survey Service - How to Breathe Life into Online Meetings?
Nikolay Petrenko, Sales Manager for Webex Collaboration Solutions in Russia.
Businesses today require a new level of agility to quickly adapt to changing conditions. Distributed teams and business processes that span the entire company have become the norm, as have interactions with customers and partners operating in similar environments. Is your company ready to grow and grow in a world of hybrid work, where every employee or client of yours is no longer tied to what we used to call an office?