5 reasons to equip your employees with POLY headsets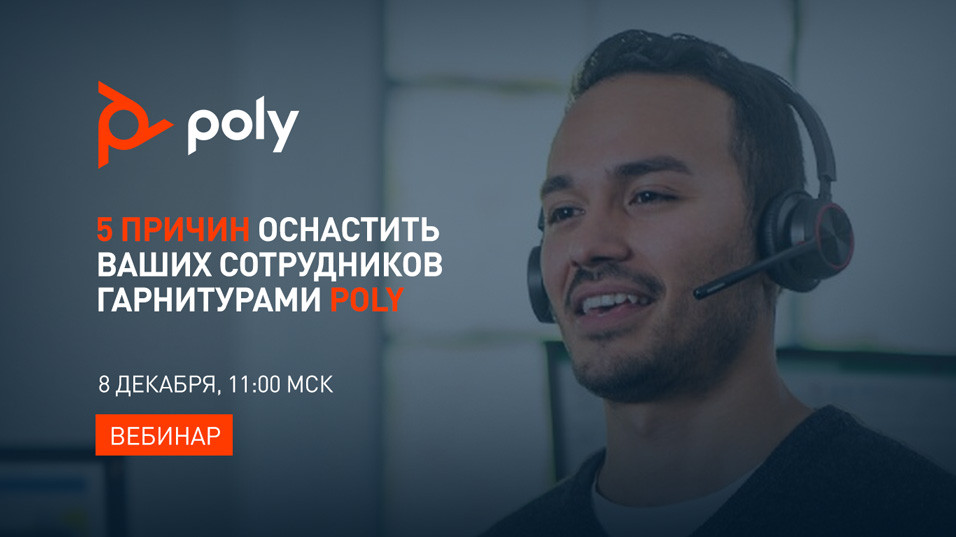 Webinar December 8, 11:00 Moscow time
Professional headsets are becoming an important working tool, with the help of which employees, who often negotiate by phone or video, improve the quality of communication and engagement in the work process, and are less tired. The use of headsets allows you to fully work with documents during a conversation, enter detailed data into CRM, generate order forms or send commercial offers. The headset makes it possible to solve many tasks right during a call, thereby reducing the time for post-call processing.
According to IDC*, in 2020-2021. 63% of organizations with a long-term focus on digital transformation are investing in peripheral equipment such as headsets and cameras to ensure a level playing field for all employees.
Providing high-quality headsets to your employees, you will get a complex effect, and high-quality communication will leave a better impression on your customers. Poly (Plantronics) headsets are high-tech and stylish devices that let you hear and be heard by delivering incredible audio clarity and eliminating distractions.
A wide range of headsets cover the needs for different work styles, workspaces and communication platforms used. Choose devices according to the needs of employees - wired or wireless headsets, specialized headsets for contact centers.
Poly Lens cloud-based device management software allows IT staff to manage, monitor, and maintain Poly devices from a single dashboard.
Join the webinar:
- December 8, 2021
- start at 11:00 Moscow time
- duration 60 minutes