AppDynamics Cloud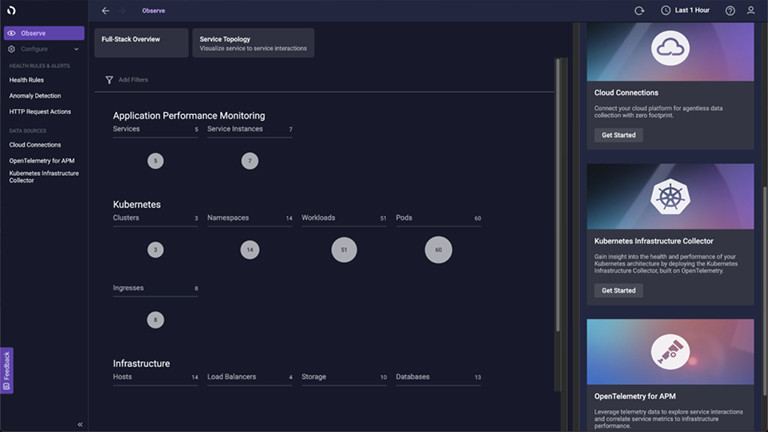 Cisco Live
Cisco debuts AppDynamics' all-new observability platform that cuts through the complexity of modern applications to give technologists a seamless, unified view of their cloud native technology landscape.
The complexities of modern apps
Modern application architectures offer unprecedented scale, agility, and reliability. While these enhancements empower enterprises to innovate and improve the application experience, they bring overwhelming complexity, too. For example, highly distributed systems rely on thousands of containers and spawn a multitude of metrics, events, logs, and traces every second. Unsurprisingly, technologists face significant challenges when trying to extract insights from this data firehose to optimize application performance.
For example, the Kubernetes® container orchestration platform is rapidly becoming the de facto standard for automating deployment, scaling and operations of applications running inside containers across clusters of hosts. It's a foundational technology adopted by many enterprises to support the future of their applications and business. In fact, a recent Cloud Native Computing Foundation® (CNCF) survey found that 96% of organizations are either using or evaluating Kubernetes.
Every technological innovation, no matter how beneficial, brings its own set of challenges. With Kubernetes, these hurdles include the daunting complexity of managing hundreds of thousands of ephemeral containers that come and go — radically different from how traditional applications operate. These environments also produce an inordinate amount of data, with containers and microservices distributed across multiple clouds. The result? The deluge of firehose data is growing exponentially.
Why AppDynamics Cloud?
AppDynamics Cloud is built specifically to address cloud native monitoring — which often means monitoring a new, modern breed of applications built using cloud provider application services, as well as modern container technology, most notably Kubernetes.
So why not run our core AppDynamics solution in the cloud native world? Because while AppDynamics is an excellent observability solution for traditional, monolithic, three-tier applications, our customers are now innovating with new, distributed, and event-driven cloud native applications, too.
Some of our competitors have simply bolted cloud native capabilities onto their existing infrastructure or APM monitoring solutions, resulting in a less-than-optimal UI that forces users to jump from tab to tab to observe and manage disconnected data silos. This approach leaves many IT teams blind when it comes to adopting cloud native technologies, and fails to provide clear, end-to-end visibility up and down the stack and across highly distributed and dynamic application topologies.
With AppDynamics Cloud, we've started with a clean slate. Rather than adding new capabilities to our core AppDynamics solution, we've purpose-built a new observability product to realize Cisco's full-stack observability vision.
What do we mean by "purpose-built"? AppDynamics Cloud is built specifically for cross-domain insights. It provides observability across all of your domains without requiring you to switch from tab to tab. It also delivers cohesive health analysis across your entire cloud native stack, delivering an instant, at-a-glance view of how your applications are performing.
With AppDynamics Cloud, we've taken an innovative, entity-centric approach: every source we collect data from is an entity. These entities are related on multiple levels, enabling effective cross-MELT (metrics, events, logging and tracing) troubleshooting. Observing metrics tells us when something is outside the norm. We can use traces and events to resolve questions such as, "Where is this happening?" or "What domain is this happening in?" And logs help us discover why something happened and what caused the problem.
Of course, all of this MELT — not to mention endless domain layers, containers, and microservices — results in far too many health rules for humans to manage. Our experience in building sophisticated AI/ML technologies allows our customers to spend less time setting up rules.
Cloud observability for cloud native customers
In her Cisco Live 2022 keynote presentation in Las Vegas, Liz Centoni, Cisco EVP, Chief Strategy Officer, and GM, Applications, noted that AppDynamics Cloud is "built from the ground up in response to what our customers are asking for." Indeed, AppDynamics Cloud enables technologists to cut through the complexity of modern applications and see what's happening with users, and what is (and isn't) working for their business.
Here are the many ways that AppDynamics Cloud supports modern distributed applications:
Providing public cloud visibility and monitoring for workloads running on Amazon Web Services (AWS) and Microsoft Azure with support anticipated in the future for Google Cloud Platform (GCP) and other cloud providers.
Visibility for managed Kubernetes workloads and containerized apps, with troubleshooting and alerts to quickly isolate container performance issues
Microservices visibility, enabling customers to monitor the performance of each service and understand the overall health of their applications and underlying infrastructure.
Trace analysis to find bottlenecks in distributed apps, as well as log and event analysis to search for patterns and anomalous behavior.
Contextualized UIs for quick navigation across telemetry types and domains (MELT for infrastructure and applications).
AI/ML-assisted baselines, anomaly detection, and root-cause analysis.
Helps our customers future-proof their OpenTelemetry investment.
So what's it all mean? AppDynamics Cloud is purpose-built to observe distributed and dynamic cloud native applications at scale. Built on a solid foundation that embraces open standards, it gives IT and developer teams a full-stack, correlated view of all telemetry data across their entire technology landscape. This unique combination of observability and advanced AIOps functionality empowers enterprises with the intelligent insights they need to quickly address issues before they impact the availability and performance of their cloud native apps.