Vacancy: 1C PROGRAMMER (ERP 2.X)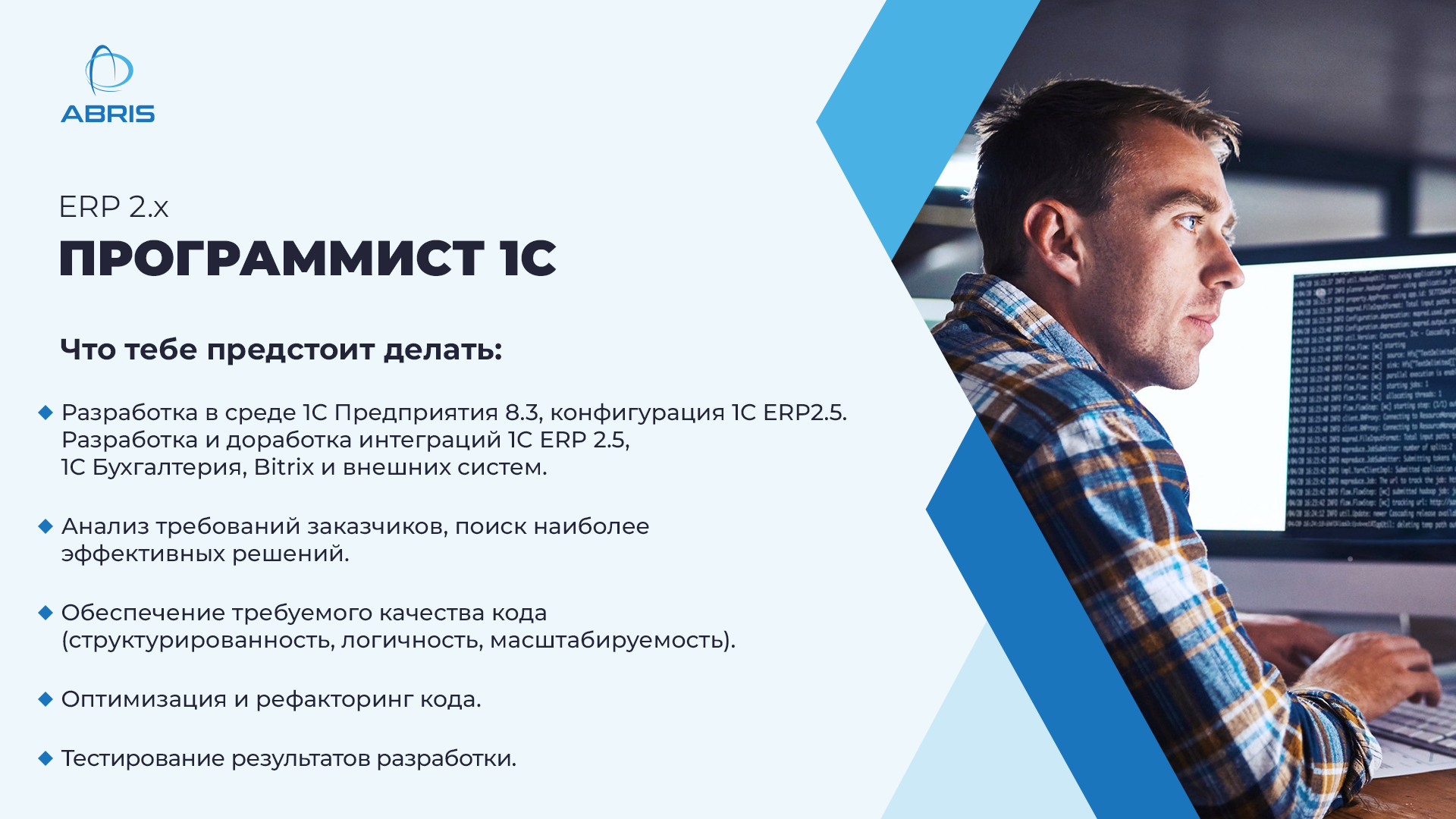 ABRIS DC KAZAKHSTAN
PROGRAMMER 1C (ERP 2.X)
What you have to do:
-Development in the environment 1C Enterprise 8.3, Configuration 1C ERP2.5. Development and refinement of integrations 1C ERP 2.5, 1C Accounting, Bitrix and external systems;
- Analysis of customer requirements, search for the most effective solutions;
-Ensuring the required quality of the code (structured, logical, scalable);
-Optimization and refactoring of the code;
- Testing of development results;
-Setting up and administration of standard configurations based on 1C.
What we expect from you:
-Higher or special-technical education;
-Experience in 1C programming - at least 3 years;
- Experience in developing integration with external systems (1C Accounting, Bitrix);
-Knowledge of typical configurations 1C ERP 2.x and higher;
-Knowledge of typical configurations 1C Accounting;
-Knowledge of the basics of accounting;
- The presence of certificates is welcome - "1C Specialist";
- Responsibility, accuracy, ability to work in a team.
What do we offer:
-Working hours 5/2 and an office where there is everything you need for life: a full-fledged kitchen, non-stop coffee, table tennis, table football, chill sofas and a sports area, and for those who like to read - a corporate library;
- Opportunity for learning and development;
- VMI (care for the health of our employees);
- Cool events (corporate field trips, delicious gatherings, board game evenings and much more);
- ADEQUATE leadership;

We are waiting for your response and resume to Tatyana.Pay@abrisdc.kz