Hewlett Packard Enterprise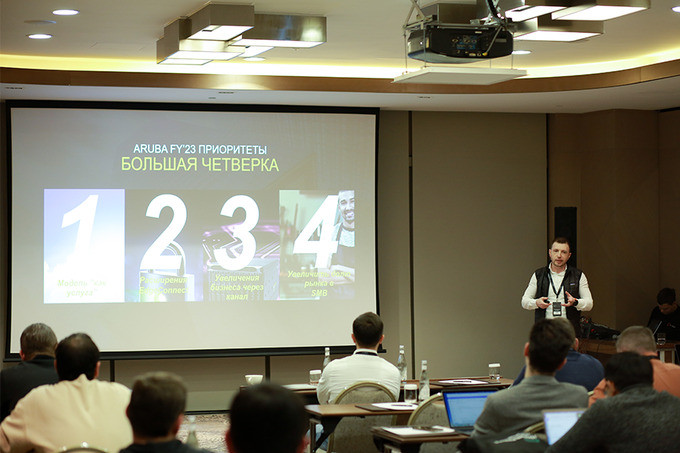 Technology Day 2023
As part of a seminar for its customers and partners, Hewlett Packard Enterprise announced the release of a new line of 11th generation ProLiant servers.
On January 26, Hewlett Packard Enterprise hosted a conference dedicated to the new line of HPE ProLiant 11th generation servers, current models of HPE Alletra storage systems, HPE solutions for mission-critical enterprise information systems, as well as the Aruba portfolio, which was attended by leading HPE specialists and Aruba. This event was organized by CA Distribution, the official distributor of HPE in Uzbekistan.
HPE ProLiant Gen11 Servers
Grigory Lyubar, representative of Hewlett Packard Enterprise in Uzbekistan, opened the event with a welcoming speech, announcing the new generation of HPE ProLiant 11 servers. with artificial intelligence (AI), machine learning, data analytics, rendering, virtualization and cloud services.
Yuri Krugly, HPE Pre-sale, explained that compared to the previous generation, HPE ProLiant Gen11 server solutions support:
-doubling the throughput of I / O systems for environments with high requirements for resource intensity;
-50% more cores per CPU;
-33% increased GPU density with increased performance per piece of server hardware.
HPE ProLiant Gen 11 servers support a wide range of architectures, including 4 Gen AMD EPYC processors, 4 Gen Intel Xeon Scalable processors, and Ampere Altra and Altra Max Cloud Native ARM server chips.
The new line includes six rack servers:
-HPE ProLiant DL325 Gen11 (1U form factor);
-HPE ProLiant DL360 Gen11 (1U form factor);
-HPE ProLiant DL365 Gen11 (1U form factor);
-HPE ProLiant DL345 Gen11 (2U form factor);
-HPE ProLiant DL380 Gen11 (2U form factor).
-HPE ProLiant DL385 Gen11 (2U form factor).
Storage systems
A special focus was placed on HPE Alletra storage systems, a comprehensive portfolio of solutions designed to provide cloud services wherever data is stored. For mission-critical workloads, the HPE Alletra 9000 delivers exceptional latency sensitivity and reliability. This helps IT pros move from owning and maintaining a data infrastructure to simply accessing and using it on demand and as a service.
Built on a unique multi-node, fully active, massively parallel platform, HPE Alletra 9000 integrates traditional and next-generation mission-critical applications at scale with predictable performance and ultra-low latency backed by 100% availability assurance.
Yuri Krugly also spoke about the release of a new line of HPE Alletra 4000 storage systems for cloud data infrastructure - the Alletra 4110 and Alletra 4120 models.
HPE Alletra 4000 offers a secure, intuitive, and cost-effective solution for organizations that need to efficiently store, protect, and extract value from their data.
HPE Alletra 4000 systems feature 4th Gen Intel Xeon Scalable processors and are suitable for a range of data-centric workloads, including real-time data processing, ransomware protection, compliance and eDiscovery, video surveillance, medical imaging, machine learning , streaming and batch processing, analytics, and more.
Although both models are very similar to ProLiant servers, there are important design differences between them. Because ProLiant servers must handle an infinite number of potential workloads, with Alletra 4000 storage servers, HPE can more accurately determine how each item is processed to ensure consistent storage performance.
Sergey Ursu, Partner Business Manager, presented the entire portfolio of Aruba.
Aruba CX is a modern, flexible and intelligent series of stackable switches suitable for enterprise network access, aggregation, core deployment and data center over rack (ToR).
Edge Connect - Provides a secure network foundation for Zero Trust and SASE. It includes a premium SD-WAN combined with a next-generation firewall for superior performance and advanced security.
The Instant On SMB line is what small businesses need: security, ease of setup, performance.
In addition to these solutions, Sergey Ursu especially noted the advantages of Aruba EdgeConnect:
-you can use only the Internet without MPLS lease, this is saving on communication channels.
-fast, fault-tolerant and reliable data transmission through any communication channels
-lower network operating costs.
-additions, replacements, changes, visibility, reports and problem solving is faster and easier.
-high performance of SaaS/IaaS applications and other applications
reducing the risk of service unavailability.