Aruba Instant On Series Overview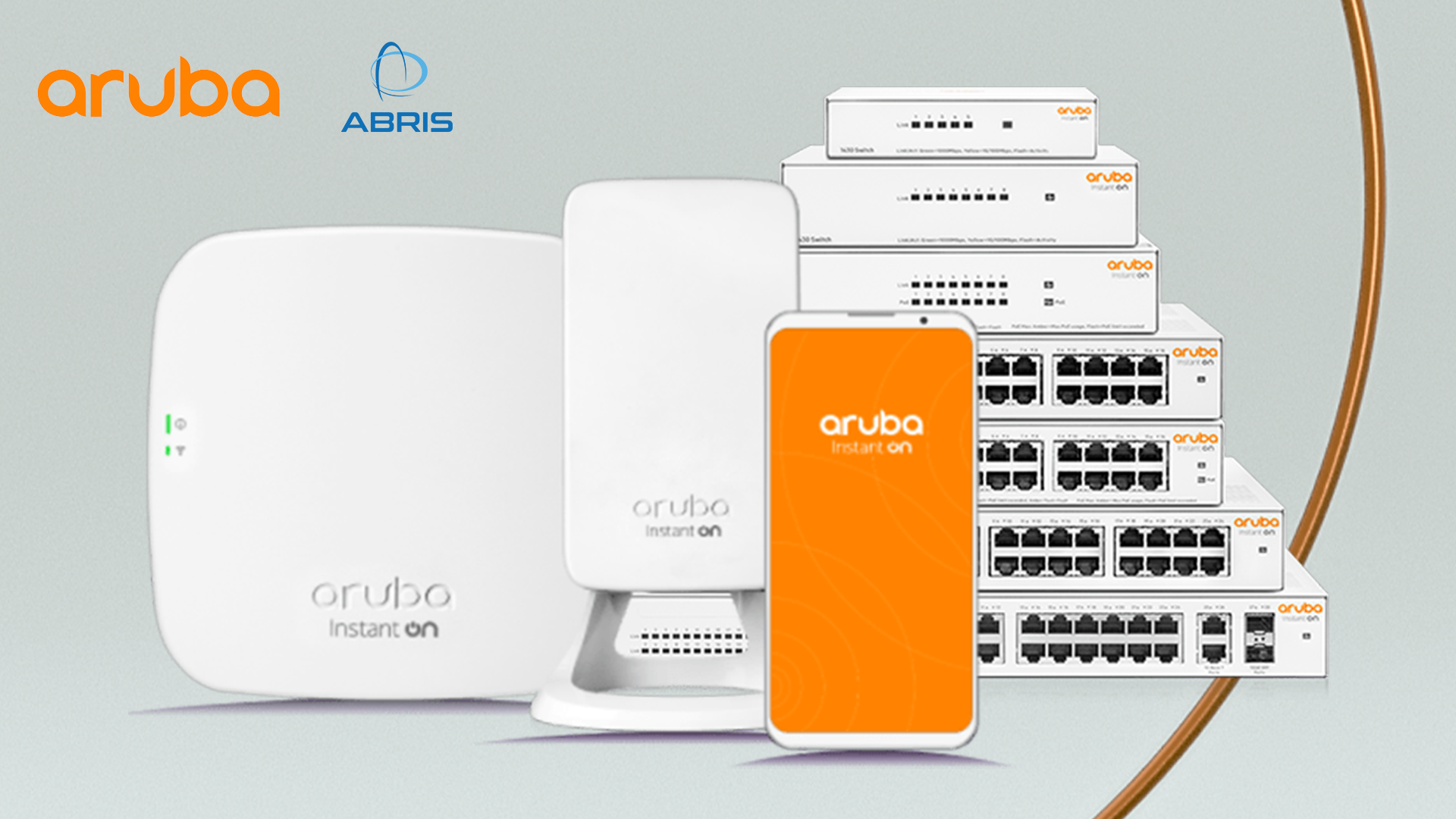 Small Business Access Points
Aruba, a Hewlett-Packard Enterprises company, specializes in equipment for enterprise networks. Most Aruba products are designed for large companies, but Instant On is a separate line for small businesses and home networks .
For small businesses , especially during a pandemic , low-cost solutions for organizing IT infrastructure are very important . In a crisis, the budget of companies is limited, but the need to optimize network solutions, on the contrary, is growing: a stable Wi-Fi infrastructure is necessary for the efficient work of employees, mobile payments , and also for organizing secure guest access to Wi-Fi for customers.
Therefore, small and medium businesses need solutions that are easy to configure, maintain and control. These include Aruba Instant On - remotely controlled access points. They are designed specifically for small businesses : restaurants and coffee shops, small hotels , offices, beauty salons, clinics, car washes, etc.
Devices from the Aruba Instant On line can be installed and configured without the help of specialists. To date, the series includes six models of access points, among which the Instant On AP22 stands apart - a solution that supports the current Wi-Fi 6 standard
We'll cover the features of all Aruba Instant On APs and take a closer look at the new AP22 model.
Features across all Aruba Instant On devices
First of all, let's outline the main advantages of the Aruba Instant On line:
- Laconic premium design, easy installation.
- Simple start-up and configuration: no IT specialist is needed for this , it is enough to turn on and configure the access point at the first use using proprietary software.
- No licenses or subscriptions required: all access points are cloud- managed via a mobile app or portal.arubainstanton.com in a browser. It even has the ability to control traffic, track user activity on the Web, and block certain sites.
- If there is no router, Instant On APs can act as a gateway and basic firewall in the appropriate mode.
- Support for Smart Mesh technology - with its help you can organize a seamless wireless network using multiple access points. The built-in virtual controller helps to do this without additional hardware.
- Security: WPA2/WPA3 secure login is supported .
There are currently six models in the lineup.
The AP11, AP12, and AP15 are basic omnidirectional access points that are typically ceiling or wall mounted. They support Wi-Fi 5 ( 802.11ac ) and have two radios for simultaneous dual band operation.
Aruba Instant On AP11
All devices have a 2 x 2 MIMO module for wireless data transmission at up to 300 Mbps in the 2.4 GHz band. Further differences follow: for the 5 GHz band, the AP11 has 2 x 2 MIMO antennas supporting up to 50 connections (up to 867 Mbps ). AP12 already has 3x3 MIMO (up to 1300 Mbps) with support for up to 75 devices, and AP15 has 4x4 MIMO with speeds up to 1733 Mbps and the ability to connect up to 100 devices.
Aruba Instant On AP12
According to the characteristics, we can conclude that AP11 is more suitable for a compact office, beauty salon, boutique; AP12 - for salons and stores with a large set of cameras or other gadgets that require a network connection; and AP15 is for startups, co-working spaces or other offices where all employees need an Internet connection at the same time .
Aruba Instant On AP15
Instant On AP17 is already an outdoor option. The case of the device is protected from water according to the IP55 standard , operates at air humidity up to 93% and temperatures in the range from -40 to + 50 ° С. The model is slightly larger than the others due to the protected housing, but is similar in performance to the AP11 . It can be installed on the summer terrace of a cafe, in a small hotel by the pool, as well as at a camp site.
Aruba Instant On AP17
The AP11D is also similar in performance to the AP11, but has three additional Gigabit Ethernet ports for connecting to wired devices. It is placed on a table or other surface. It comes with a special stand along with a connecting cable, as well as a kit for mounting in a box, which makes it a good option for hotel rooms, small offices, medical offices, as well as offices in business centers where there are problems with uninterrupted coverage of for other networks.
Aruba Instant On AP11D
Aruba Instant On AP22 Access Point
Devices with Wi-Fi 6 (aka 802.11ax) have been on the market for some time, so the appearance of access points with support for this technology is quite logical. The Instant On AP22 model supports the Wi-Fi 6 standard, which increases network bandwidth and allows you to serve more users at the same time.
The external device looks like other access points of the line: white plastic body, metal base. The kit comes with a mount for mounting on a wall or ceiling, as well as a separate mount for a false ceiling.
Aruba Instant On AP22
Instant On AP22 is equipped with two radios for simultaneous operation in the 2.4 and 5 GHz bands, both of which support Wi-Fi 6 and have a 2x2 MIMO configuration . The maximum connection speed reaches 1.2 Gbps in the 5 GHz band and 574 Mbps in the 2.4 GHz band. To connect to the network, a gigabit RJ 45 port is used , but you can also purchase a 12 V power supply.
Compared to previous models in the line, AP22 is faster when users connect to Wi-Fi 6. Therefore, it is recommended to install it in offices with high network bandwidth requirements, such as technology startup offices . In a word - in rooms with a high density of employees and the need for fast simultaneous connection.
Like other devices in the line, setting up an access point is quite easy - no specialist services are needed for this. The Instant On AP22 is connected via a web interface or a mobile application . After registration, the system quickly detects the access point and launches a simple and intuitive setup wizard that helps you add equipment to your account and create a secure wireless network.
You can also create a guest portal here so that customers get to the page with the company logo and enter a username / password. In addition, through a mobile application or browser, it is proposed to monitor the network status, change the configuration, limit the bandwidth for clients, and analyze and control traffic.
In the future, you can add new devices to the created network ( Smart Mesh technology is also supported ) or create another network in the same account.
As for security, all user data, as in other devices in the line, is protected by WPA2 / WPA3 and Enhanced Open encryption standards . A TPM module is also provided to securely store credentials and cryptographic keys .
Results
Aruba Instant On Access Points provide a stable wireless network for employees and customers alike. At the same time, they are distinguished by an affordable price and simple, literally elementary configuration without the involvement of IT specialists - this is very important for small businesses with a limited budget.
Depending on the scale of the business and its direction, the company can choose the appropriate option from six models. For small rooms with several employees (barbershops, car washes), as well as for home offices, the AP11 access point is suitable, and for installation on the terrace of a restaurant or at a recreation center, it is better to use AP17. For a store, you should choose AP12, and in places with the intersection of a large number of networks, such as business centers, the AP11D model is better suited. For offices with a large number of employees, it is worth purchasing the AP15. The flagship model of the manufacturer Instant On AP22 with Wi-Fi 6 support will be optimal for installation in offices with high requirements for network stability and performance.
For more information and advice on Aruba Instant On access points, contact your authorized OCS Distribution representative .
In the table you will find the main characteristics of the Aruba Instant On access points.
Model
Speed
Gain 2.4/5 GHz
Number of connected devices
WiFi standard
Dimensions, weight
Aruba Instant On AP 11
2.4 GHz - up to 300 Mbps, 5 GHz - up to 867 Mbps
3.3/5.8 dBi
up to 50
802.11ac, 802.11n
34x152x152mm
193g
Aruba Instant On AP 11D
2.4 GHz - up to 300 Mbps, 5 GHz - up to 867 Mbps
4.3/6.2 dBi
up to 50
802.11ac, 802.11n
86x40x150 mm
313 g
Aruba Instant On AP 12
2.4 GHz - up to 300 Mbps, 5 GHz - up to 1300 Mbps
3.9/5.4 dBi
75
802.11ac, 802.11n
34 x 157 x 157 mm
483 g
Aruba Instant On AP 15
2.4 GHz - up to 300 Mbps, 5 GHz - up to 1733 Mbps
3.6/6 dBi
100
802.11ac, 802.11n
41 x 183 x 183 mm
674 g
Aruba Instant On AP 17
2.4 GHz - up to 300 Mbps, 5 GHz - up to 867 Mbps
4.2/4.7 dBi
50
802.11ac, 802.11n
187 x 156 x 67 mm
640 g
Aruba Instant On AP 22
2.4 GHz - up to 574 Mbps, 5 GHz - up to 1.2 Gbps
4.3/5.6 dBi
75
802.11ax
160 x 160 x 37 mm
500 g