Cisco Digitize Delivery Technology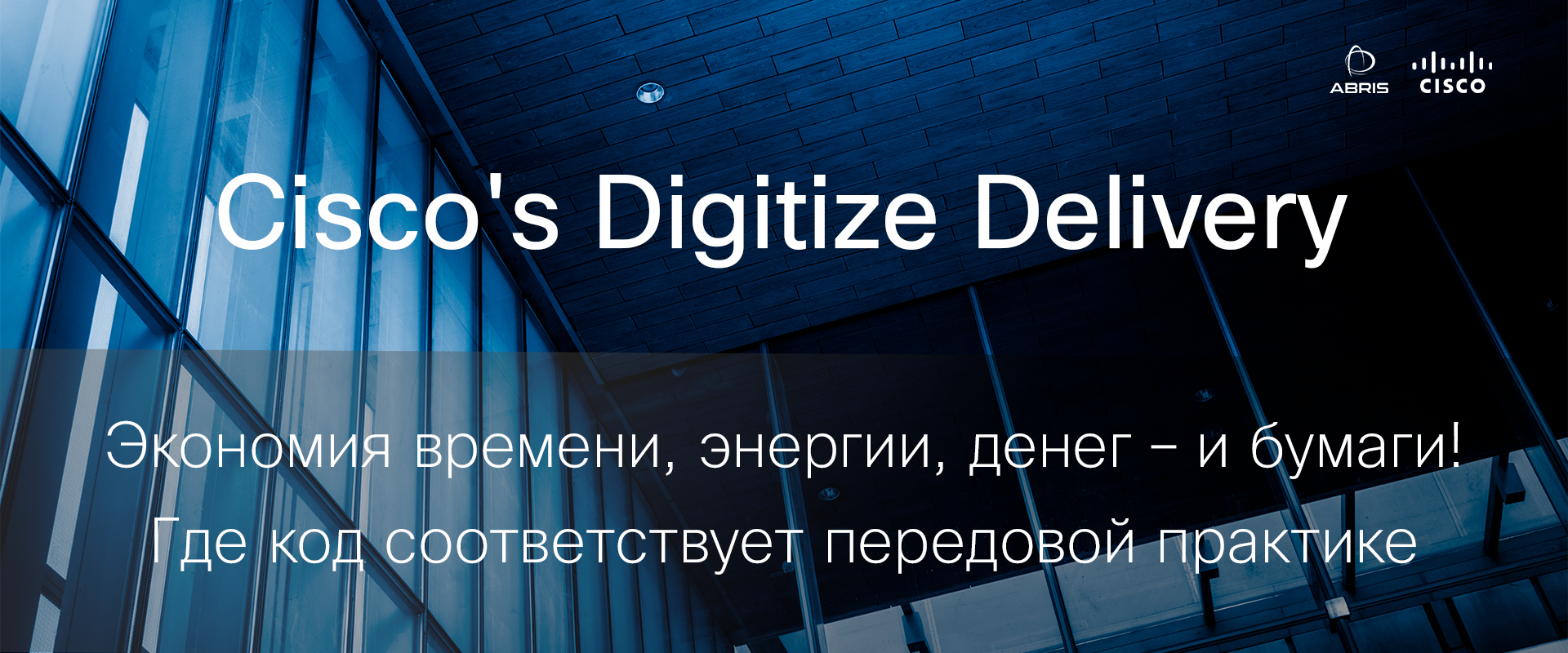 Step into the Future
Step into the Future with Cisco Digitize Delivery Technology
As companies "re-engineer" digital and move from a hardware-centric to a more software-centric environment in the cloud, we can address some of the biggest challenges in their digital transformation journey. One of the ongoing challenges that corporations face in the 'digital race' is how to meet their operational needs with existing technologies while keeping the embedded technologies operational. With the digitization of delivery, we can address these challenges much faster than ever before, both in the operational and implementation phases.
Save time, energy, money - and paper!
The digitization of delivery is a real DevOps transformation. We help clients move from "manual" to "automated" environments, eliminating routine tasks and freeing up time so they can focus on more complex tasks. As a result, we are seeing much more streamlined and risk-free operations, faster time to market, lower costs and higher productivity, and a surge in innovation.
No matter where you are on your digital journey, companies have historically struggled to attract talent to support their digital transformation. This is where the digitization of delivery kills two birds with one stone, as it frees up time to retrain and upskill employees with relevant digital knowledge for the future. In addition, studies show that the more innovative a company is, the more likely it is to attract experienced professionals.
Markus Gierlich, Vice President of CX EMEA (Germany and Central Asia) says, "Leading in automation will make Cisco and our partners a more attractive job opportunity while supporting our retention programs. This also applies to our clients who are transforming with us. This is due to less standardized day-to-day operations with command-line interface (CLI) and documentation, and a greater focus on high-impact creative work."
Where code matches best practice
Using Cisco ACI-as-Code in Data Center Environments (Application Centric Infrastructure as Code), a software-defined networking solution, we help organizations manage complex and stressful environments by enabling network automation to improve operational efficiency. It is also more sustainable as we move from physical assets that become obsolete very quickly to digital ones!
An example of this is the Network Implementation Plan, which is usually read by humans and put into action by hand. With Digitize Delivery, we provide this plan digitally so that it can be put into action through automation. This means that infrastructure changes can be made very quickly and without human intervention. Moreover, it can be constantly updated. The same concept can be applied to other concepts and outcomes, such as acceptance testing, where instead of relying on an engineer to execute and document tests, we can automate the process in a repeatable, consistent, and standardized way.